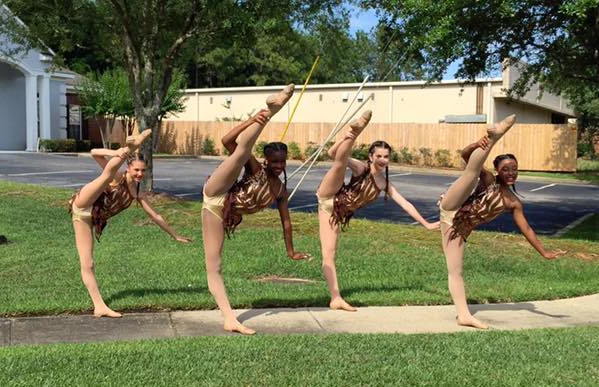 Samantha Church
Abigail starting dancing at the age of 5. She was instantly taken with everything dance ... the teachers, the moves, the friends she made. As the years have gone by…she has progressed immensely ... not just in her dance but in her self-confidence and ability to focus. The teachers at Debbie's are the best in Mobile ... talented, nurturing, and always putting the best interest of the dancer first. We love Debbie's!
Renee Simmons
I have watched my daughter, Abbie, dance for seven years at Debbie's School of Dance. She has been on the competition team for the last four years. It has been amazing to see Abbie blossom into a graceful and confident young dancer. Debbie's has not only taught my daughter grace, coordination and discipline, but how to work hard toward her dreams. Abbie has also developed wonderful friendships and cherished many moments at Debbie's. It's been like family for my daughter and me. At Debbie's It's truly more than just about dance.
Kym Thurman
My daughter is going into her fifth year of dance at Debbie's! She started with the toddler/preschool class, she was barely 2; but it was absolutely amazing to see how well she responded to the class and to Debbie. During the recital, I was amazed that first year at how well these little girls followed directions and how well they were able to follow along with the dance. Many of the girls who started with Kirklyn, are still with her today! Every week, she looks forward to class, dancing with her friends, and learning new moves. Our dance schedule has grown over the years from one class to now three, which I'm sure will grow into even more the older she gets. Watching Kirklyn dance and tumble captivated her older brother to the point he wanted to try it, and try it he did! Within the two years he took dance at Debbies, he learned hip hop and how to tumble like a pro, in fact the moves he learned here qualified him for a competition tumbling team and the traveling dance squad at his school! I love Debbie and her staff; my children love Debbie and her staff. It's given them a love and appreciation for dance and the arts and also helped them be able to perform in front of others with no fear and confidence!
Lewis & Sylvia Copeland
The competition is over, the applause subsided, but the joy and feelings will stay with us forever. Thank you for believing in Kristen and encouraging her to participate in the Distinguished Young Women program. Also, for you and Rebecca, choreographing the perfect dance, and selecting the perfect outfits. Thanks for every detail that lead up to the moment her name was called. Also, we want to thank you for helping train Kristen, Katie Lynn and Karoline, not only in dance, but helping to mold them into the strong women they will become tomorrow. Your dedication and knowledge will never be forgotten by our family. Your dancing ability and leadership are TOPS - we are truly blessed to have you. We are looking forward to state competition in January.
Kim Diegan
What can I say about Debbie's School of Dance?! Our journey started 3 years ago. I had a precocious 2 year old on my hands and was looking for anything as an outlet for her energy. Debbie's is one of the few dance schools that will accept 2 year olds, and I am so happy that we found her. Not only did my child get a dance teacher, she has new members of her "family". From the moment she walks in the door to see Miss Erin, to every class she attends, she gets closer and closer to the staff. They treat my child as one of their own and she loves them all so much. Each year I watch her grow in her dancing abilities, and her love for dance also grows. We LOVE Debbie and all of the staff at Debbie's School of Dance. I can't imagine my baby girl dancing anywhere else!!!